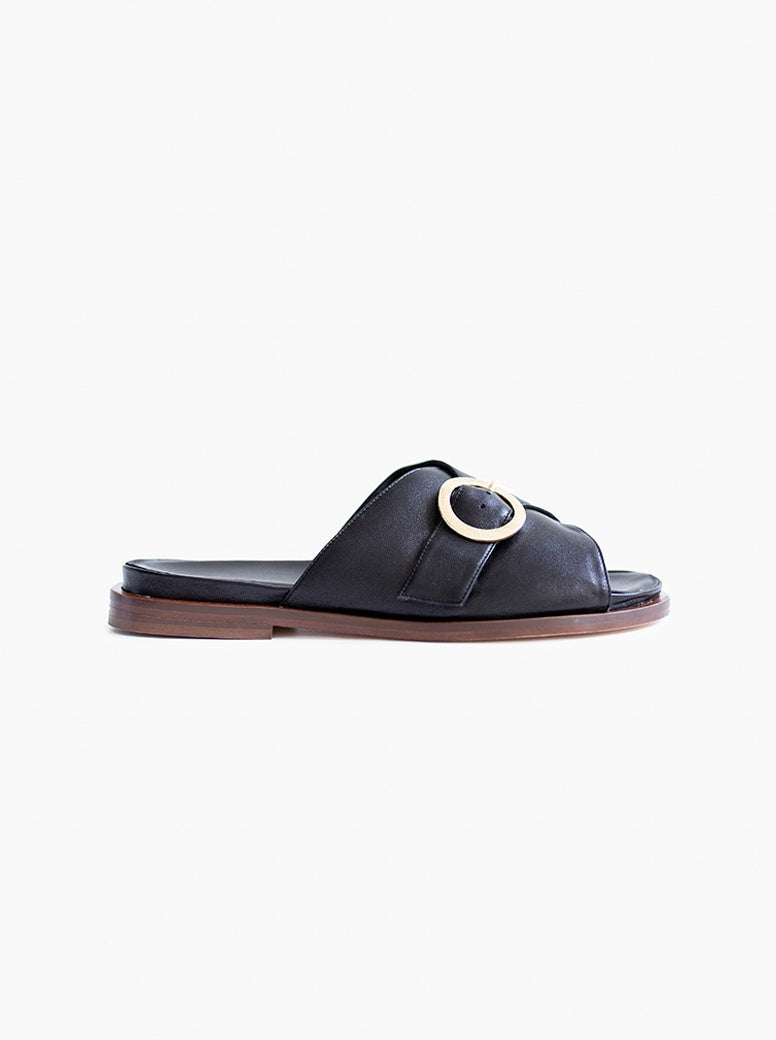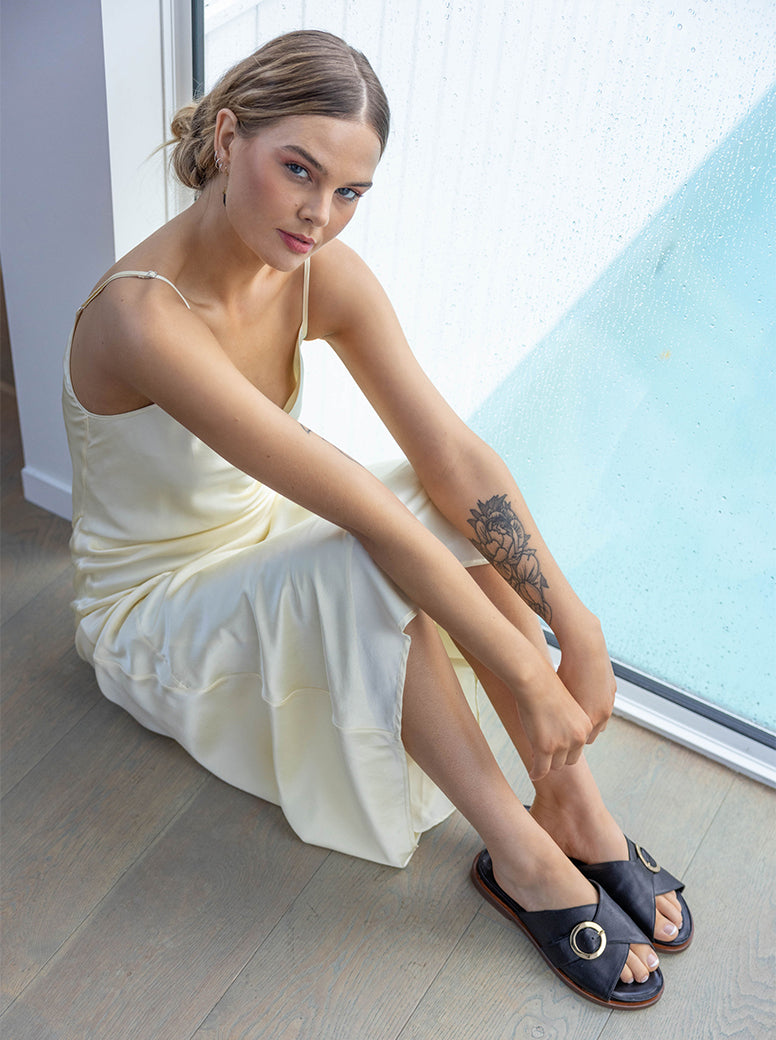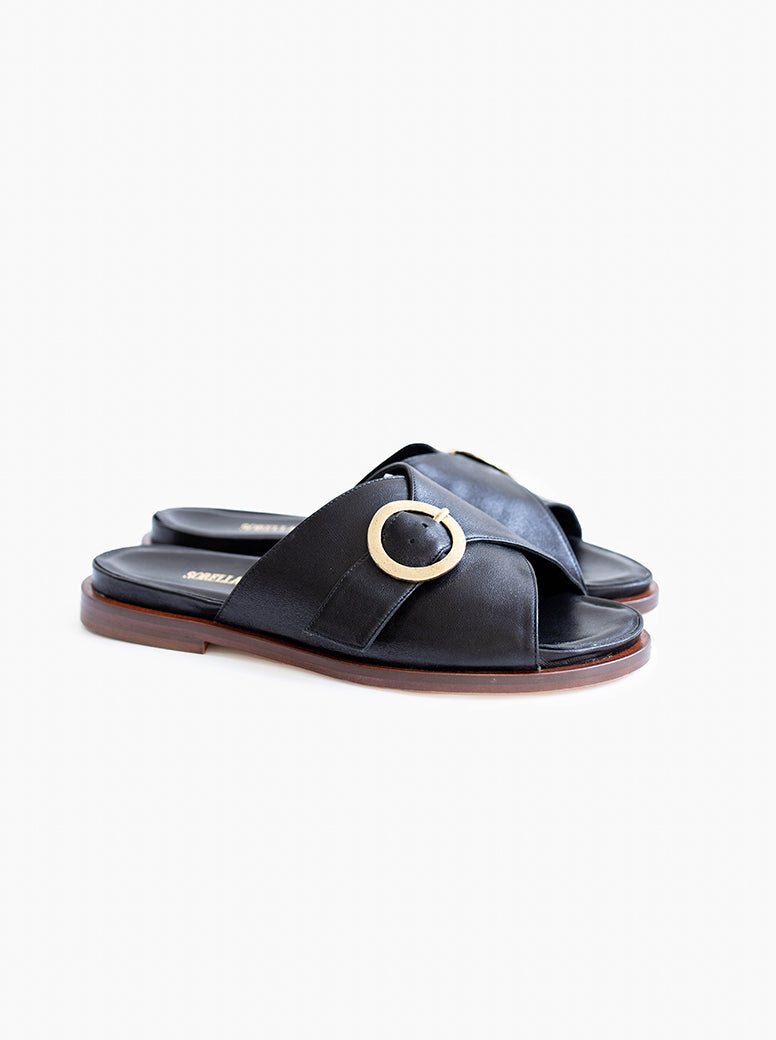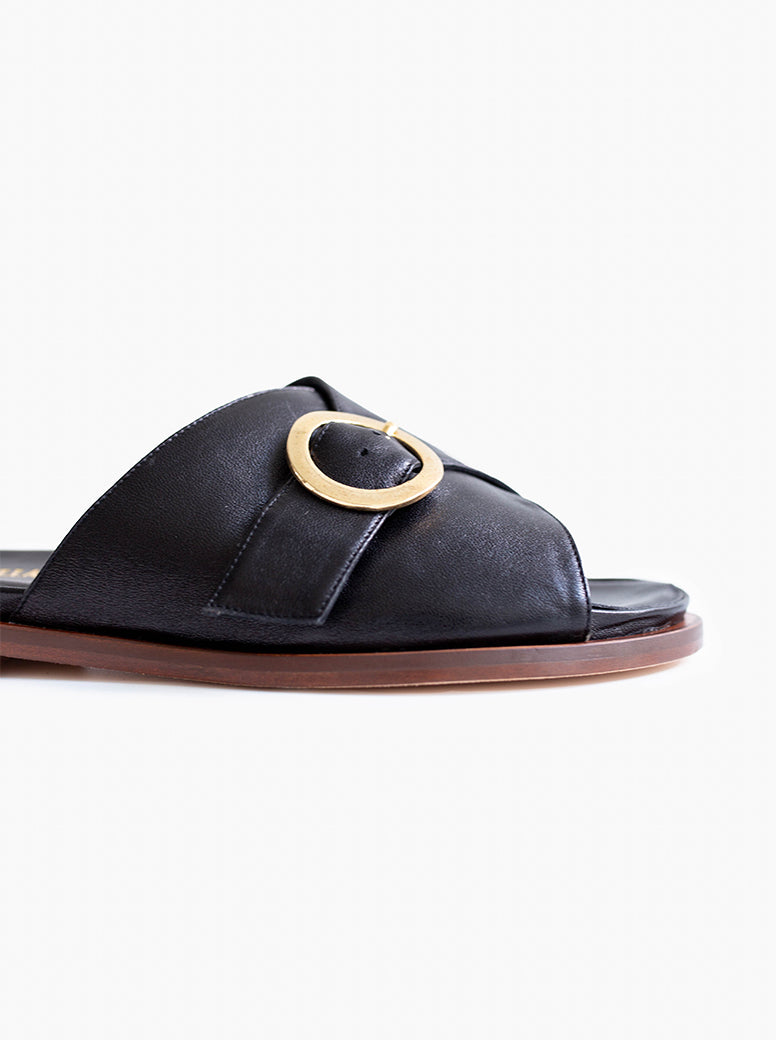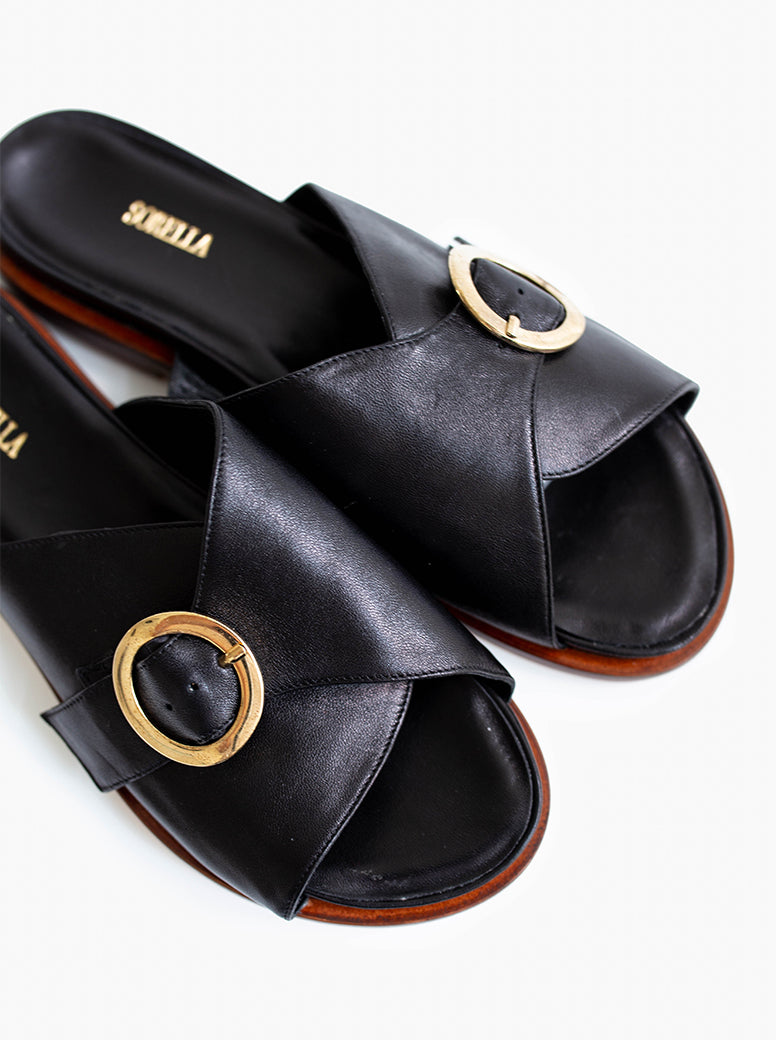 Malaga black
Minimalist sophistication defines our Malaga sandals and are destined to be one of your most worn pairs. This refined style with cushioned insole is made in polished black leather with gold metal ring detail.  
Made in Italy.
Pickup currently unavailable at 15 Teed St, Newmarket
15 Teed St, Newmarket
Pickup currently unavailable
15 Teed Street
Newmarket
AUK
Auckland 1023
New Zealand
+6495201424
Level 2, Westfield 277
Pickup available, usually ready in 24 hours
277 Broadway
Newmarket
AUK
Auckland 1023
New Zealand
+6492189128
| Euro | UK | US |
| --- | --- | --- |
| 34 | 2 | 3 |
| 34.5 | 2.5 | 3.5 |
| 35 | 3 | 4 |
| 35.5 | 3.5 | 4.5 |
| 36 | 4 | 5 |
| 36.5 | 4.5 | 5.5 |
| 37 | 5 | 6 |
| 37.5 | 5.5 | 6.5 |
| 38 | 6 | 7 |
| 38.5 | 6.5 | 7.5 |
| 39 | 7 | 8 |
| 39.5 | 7.5 | 8.5 |
| 40 | 8 | 9 |
SIZE & FIT
Fits true to size for shoe dimensions, If the shoe doesnt fit properly, purchases may be returned by courier to any of our Scarpa stores for an exchange or refund as soon as possible.
Shopping with Scarpa:
We take pride in supplying quality footwear and accessories and it is important to us that you are completely satisfied with your purchase.

Here are some tips on how to ensure your order goes smoothly:

Please provide a daytime delivery address where someone will be available to receive your delivery.
We are unable to make alterations or additions to your order once confirmation has been sent.
If you are an existing customer of Scarpa, please register a new account using your existing email (the one you have used in store) and enter a new password of your choice. All your existing Scarpa VIP points and details will connect to our in-store VIP systems via your email address.
Returns Policy:
Sale (reduced price) items and handbags are excluded from this return policy, as all sales of these items are final.

If unsuitable, online purchases may be returned by courier to any of our Scarpa stores for an exchange or refund as soon as possible ( Flexible Returns: 7 days after you receive your items ) after you receive them.

Please complete the returns form included with your purchase.
All returned items must be as new, in original packaging and condition.
All purchases are guaranteed against manufacturing defects for one year from the date of purchase.
Scarpa will always meet its responsibilities under the Consumer Guarantees Act.
Please keep your receipt as proof of purchase.
Pre-orders
Pre-order Items will be delivered within 20 - 30 days after payment.
Some styles might have minor colour variances to the pictures depending on the manufacturer.
Regular terms and conditions for returning the items will apply after you received your items.
If for any reason your items are not delivered by the manufacturer we will issue a refund to your method of payment.
We are a proud small NZ business with roots firmly based in premium european craftsmanship. We purchased and took over driving the business 4 years ago with the intent to continue the legacy of our parents, but also to evolve Scarpa into something that is uniquely - well, us. We are an extremely small passionate team who remain laser focused on what we are good at and what we know our customers love - the best of global brands, curated for NZ women with discerning taste and a desire for fashionable comfort that just fits.

We think we have the best customers in the world who shop with us over and over again - we pride ourselves on the fact that we are a repeat purchase business with one of NZs strongest retail brands. We are unapologetically quality, comfort and fashion focussed...and repeating this over many years has lead us to be highly regarded when it comes to the most important retail skill of all - creating trust. Our customers trust our expertise and love our brand having recently given us one of the highest retail brand scores* in NZ.